Liv Morgan And Lana Hottest LOVE Story Top pictures and video online
These 16 Photos Show A Different Side Of Liv Morgan And Lana
Here Are 16 Photos Show A Different Side Of Liv Morgan And Lana.
No one would ever think that Liv Morgan and Lana would be in a storyline together. But that's what happened in December 2019. During Lana's kayfabe wedding to Bobby Lashley, Liv came down and revealed that she was in love with Lana. In the following weeks, the two ladies would compete inside the ring, with Liv getting the upper hand on Lana.

RELATED:Becky Lynch And Seth Rollins WWE Top pictures and video online

At the moment, it appears that their feud is over, but the storyline has brought some much-needed attention to the women's careers. WWE seems to be lining up Liv and Lana for huge pushes down the line. Liv was a popular member of The Riott Squad and is now setting out on singles competition. As for Lana, she's mostly known for being a valet but is proving herself as a wrestler. Liv and Lana are different from their wrestling personas, and today we'll take a look at photos that show their different side.

Liv Morgan And Lana LOVE Story Top pictures and video online
16

Modeling Backstage
The women wrestlers love to pose for selfies showing off their fashion. While backstage at a WWE event, Liv passed the time by modeling her latest outfit. Liv struck a pose as she showed off her white attire. If Liv ever decides to give up wrestling, she'd have a good career as a model.
15

Lana's Hollywood Buddies
Like many wrestlers, Lana has tried her hand at acting. In 2015, she had a small role in the Anna Kendrick and Rebel Wilson film Pitch Perfect 2. Lana is continuing with her acting career and is currently off WWE television to work on her new project. She's working on a sci-fi film with Hollywood A-lister Bruce Willis.
14

Hooters Girl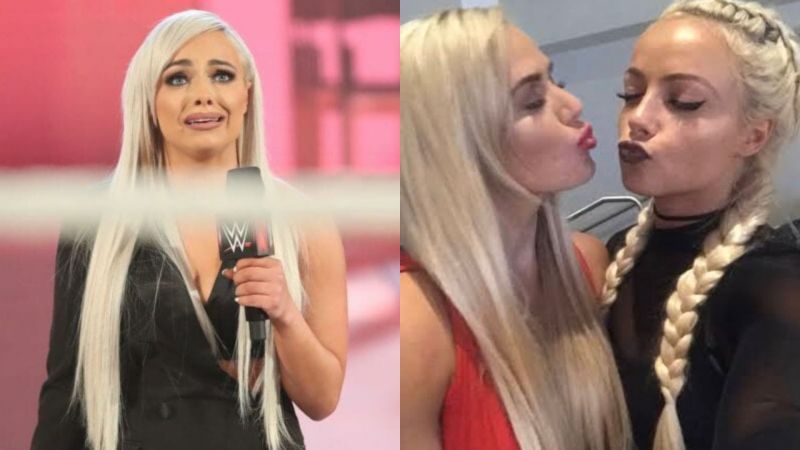 Before pursuing a career as a wrestler, Liv worked as a waitress for Hooters. Liv would wear the restaurant's signature outfit of shorts and a tight-fitting top as she served customers.
She stayed with the restaurant for a while before she left in 2014 to concentrate on her wrestling training.
13

Modeling On The Streets Of LA
Prior to joining WWE, Lana worked as a model. The Ravishing Russian continues with her modeling career both in and out of WWE. During a trip to Los Angeles, Lana looked like she was dressed for the runway as paparazzi captured her walking down the sidewalk. She definitely has the model strut down pat.
12

Liv's Workout
It's important for wrestlers to stay in shape, and they try to get to the gym whenever they can. Workouts are a part of Liv's schedule and during her time in NXT, cameras followed her as she showed off her exercise routine. She proved she has the muscles as she lifted weights.
11

Filming Total Divas
In 2016, Lana signed on as the new cast member of Total Divas. Cameras followed her every move as she hung out with her co-workers, and she offered viewers a glimpse into life with Rusev. While Lana was one of the highlights of the show, she was let go after two seasons with the series.
10

Liv And Enzo Amore
Liv and Enzo Amore began dating when they were in NXT. However, shortly after Enzo was moved to the main roster, he and Liv broke up. Their split was anything but amicable. The exes have thrown shade at each other, and Liv hinted that infidelity played a part in their break up.
9

Traveling With Rusev
While Lana and Rusev are divorced on WWE television, the couple is still happily married in real-life. The couple wed in July 2016, and both of their ceremonies were featured on Total Divas. One wedding took place on a beach in Malibu, while the other was held in Rusev's home country of Bulgaria.
8

Dressed As A Baby
Wrestlers are known to be creative, and when it comes to Halloween they go all out. To celebrate the holiday, Liv decided to dress up as a baby. For her costume, she wore pink pajamas, a bib, and slippers. To cap off the look, she included a blanket and stuffed animals.
7

NXT Halloween Fun
Just like Liv, Lana can't resist dressing up for Halloween fun. One year, Lana and her NXT co-workers Paige, Emma, and Eva Marie decided to go for a scary look. The ladies looked quite the fright with their bloody zombie makeup. If there was an award for best zombies, this group would've won.
6

Hanging With The Total Divas Crew
During the recent season of Total Divas, Liv was featured as a recurring cast member. She often joined the ladies for lunch, and even participated in the girls' trip to Hawaii. Her appearance has many believing that she'll be a full-time cast member when the show's next season starts.
5

Christmas Festivities
After spending a majority of the year on the road, WWE stars looking forward to Christmas break, when they can go home and unwind. To celebrate the holidays, Lana and Rusev dressed in their most colorful, festive outfits. She looked stunning as an elf, and he made a good Santa.
4

Day At The Beach
Living in warm and sunny Florida, Liv takes every opportunity to enjoy the weather. On a day off, she and NXT star Aliyah set out for some fun at the beach. The two women soaked up the rays and were ready to take the surfboards out to ride the waves.
3

Farm Work
While Lana seems like a high-maintenance girl, she's shown she's not afraid of work. Lana tried her hand at being a farmer during a trip to Rusev's family farm in Bulgaria.
She had an interesting attire with a bikini and cowboy boots. While it was hard work, Lana was a pro at helping with the animals.
2

Sarah Logan's Wedding
Liv made her main roster debut alongside Sarah Logan and Ruby Riott as part of The Riott Squad. The group was as close offscreen as they were on television. Liv and Ruby attended Sarah's December 2018 wedding to WWE wrestler Raymond Rowe and even dressed up as Vikings for the ceremony.
1

Disney World
While they're enemies on television, Lana and Liv are friends in real life. With busy schedules, the two women hang out whenever they have free time. As seen in this throwback photo, one of their favorite pastimes was visiting Disney World. Lana and Liv are all smiles as they pose in their mouse ears.
Liv Morgan And Lana Hottest LOVE Story Top pictures and video online