Ronda Rousey Evolution Top pictures and video online
16 Photos Of Ronda Rousey's Evolution In the UFC
At just 33 years old, Ronda Rousey has become a household name, and she has her illustrious career, both in and out of the Octagon, to thank for that.
At just 33 years old, Ronda Rousey has become a household name, and she has her illustrious career, both in and out of the Octagon, to thank for that. Rousey began competing at an early age, and has since turned this passion into successful roles as a mixed martial artist, professional wrestler, author and even a Hollywood A-list actress.

Not only has she garnered many fans throughout her career, Rousey, who is also endearingly known as "Rowdy," has blazed a path for women following in her footsteps. This is because Rousey was the first woman to fight in UFC history, also becoming the first female fighter to be inducted into the UFC Hall of Fame. On top of that, she is still the only woman to win a championship in both the UFC and WWE, respectively.

To recap on her rise to the top, below are 16 photos of Ronda Rousey's evolution in the UFC.

Ronda Rousey Evolution Top pictures and video online
16

Olympic Bronze In 2008
Following in her mother's judo footsteps, Rousey became the youngest judoka to compete at the 2004 Olympic Games at the age of 17. Four years later in Rio, she won a Bronze medal after defeating Annett Boehm and also became the first American to win a women's judo medal at the Olympics. This led her down a new path in MMA.
15

Joining Strikeforce And Becoming The Women's Bantamweight Champion
After starting her amateur MMA career in 2010, Rousey turned professional only one year later, having won three fights along the way. As she continued to dominate in the cage, she then signed to Strikeforce and decided to challenge Miesha Tate for the Strikeforce Bantamweight Champion title. Rousey became the new champion after defeating Tate with her signature armbar move.
14

First Woman To Sign With UFC
In November 2012, Rousey became the first female fighter to sign with the Ultimate Fighting Championship. During a pre-fight press conference, UFC president Dana White officially announced she was the first UFC Women's Bantamweight Champion when she signed for the promotion. This was a major step in the world of athletics, especially for female athletes.
13

Patented Armbar Lock
The armbar lock became Rousey's signature move in the Octagon. The fighter has used this move many times in the past, most notably against Tate during the Strikeforce Bantamweight Champion, where Rousey managed to dislocate Tate's elbow. It's no wonder the armbar has become one of the most feared moves in all of MMA.
RELATED:Amanda Nunes UFC Top OMG Pictures and video online
12

UFC 157 Vs. Liz Carmouche
On February 23, 2013, Rousey successfully defended her Women's Bantamweight Champion title when she defeated Liz Carmouche at UFC 157. Although Carmouche looked to have had the edge early on in the match, Rousey managed to armbar her and won the fight at 4:49 in the first round by submission.
11

UFC 168 Vs. Miesha Tate
On December 28, 2013, Rousey found herself in a rematch against her Strikeforce rival Miesha Tate at UFC 168. She managed to keep her Bantamweight Championship after submitting Tate with an armbar in the third round. Earlier in the match, Tate managed to deflect a previous armbar attempt by Rousey.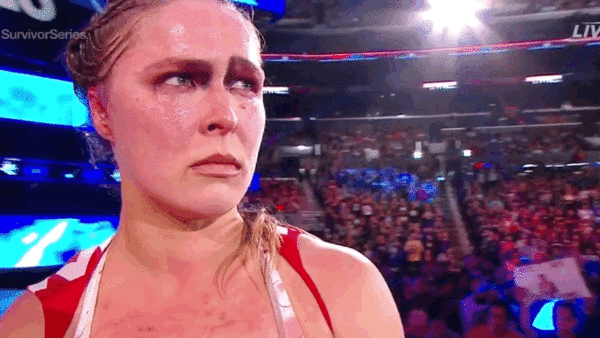 10

UFC 170 Vs. Sara McMann
After defending her title from Carmouche and Tate, Rousey had to face her toughest competitor yet, fellow Olympian and undefeated fighter Sara McMann. The 2014 matchup was the main event of the UFC 170 card and saw Rousey winning the fight by technical knockout (TKO) in the first round.
9

UFC 175 Vs. Alexis Davis
Following her first pro win that didn't involve submission by armbar, Rousey faced up against Alexis Davis in the co-main event at UFC 175 on July 5, 2014. Only after an impressive 16 seconds, Rousey managed to TKO Davis in the first round. On top of winning, Rousey earned her second "Performance of the Night" bonus.
RELATED:Nikki Bella and Brie news Total divas real life 2020
8

UFC 184 Vs. Cat Zingano
Rousey's matchup against Cat Zingano was initially supposed to take place at UFC 182. After being moved to UFC 184, held on February 28, 2015, Rousey used her patented armbar to defeat Zingano. The win, which only took 14 seconds, became the shortest UFC Championship match in history at the time.
7

UFC 190 Vs. Bethe Correia
UFC 190 took place on August 1, 2015 in Brazil and saw Rousey defeating Correia via technical knockout in the first round after 34 seconds.
Taking place one day after Roddy "Rowdy" Piper died, Rousey dedicated her UFC 190 fight to the Canadian professional wrestler, who also happened to be a great inspiration to her.
6

ESPY Award For Best Female Athlete And Best Fighter
Along with winning her Olympic Bronze medal and six successful bouts in the Octagon, Rousey reached a career all-time high when she was named ESPN's Best Female Athlete Ever and Best Fighter in 2015. She previously won the title of Best Female Athlete the year before, beating out Serena Williams.
5

UFC 193 Vs. Holly Holm
What goes up must come down. With a 12-0 record and the title of Best Female Athlete Ever under her belt, Rousey's undefeated MMA record came tumbling down after her fight with Holly Holm.
Rousey was knocked out by Holm on November 15, which meant she was unable to defend her three-year UFC Bantamweight Champion reign.
RELATED:Edge and Christian WWE 2020 full match | news | REAL LIFE
4

UFC 207 Vs. Amanda Nunes
After taking a year-long break from the Octagon, Rousey decided to return to face then UFC Bantamweight Champion Amanda Nunes on December 30, 2016.
During the main event of UFC 207, Rousey made an unsuccessful comeback and was knocked out due to punches by Nunes after 48 seconds in the first round.
3

Retirement
Following two consecutive unsuccessful MMA fights, this led Rousey to retire, even though she never explicitly announced it. She ended her professional MMA career with a record of 12 wins and two losses.
During her retirement from MMA, Rousey continued to star in a bevy of Hollywood blockbusters and small screen hits in addition to hosting Saturday Night Live.
2

UFC Hall Of Fame
In July 2018, two years following her last UFC appearance, Rousey was inducted into the UFC Hall of Fame by Dana White, becoming the first female ever to do so. This was a well-deserved honor considering her achievements during her MMA career and her historic reign as Women's Bantamweight Champion.
1

Move Into The WWE
Following several appearances in the WWE, even appearing alongside The Rock at WrestleMania 31, Rousey signed with the wrestling promotion in 2018. Since making her in-ring debut at WrestleMania 34, Rousey managed to dominate her fights and became the first woman to win both a UFC and WWE championship, along with becoming the first female to main both a UFC and WWE PPV event. After losing against Becky Lynch at WrestleMania 35, Rousey stepped down from the WWE.