Ruby Riott WWE Injury To Miss Several Months With WWE Injury
WWE's latest Superstar Shake-Up wasn't kind to The Riott Squad.
Their close backstage fraternity was split up when Liv Morgan was sent from Raw to SmackDown after WrestleMania 35, leaving Ruby Riott and Sarah Logan on Monday Night Raw. None of them have appeared on either brand since then, though they have kept their alliance going on the live event circuit
SB_Group| Full match: Sasha Banks vs. Ruby Riott (w/ Liv Morgan & Sarah Logan)
Riott herself hasn't appeared on television since the 22 April edition of Main Event. She lost to Dana Brooke that night, and now looks set to miss even more time after suffering what WWE are calling "a bilateral injury to her right shoulder."
The good news is that Ruby has already undergone surgery on said joint:-
Ruby Riott vs Ronda Rousey Womens Title Match Raw
Ruby Riott WWE Injury
'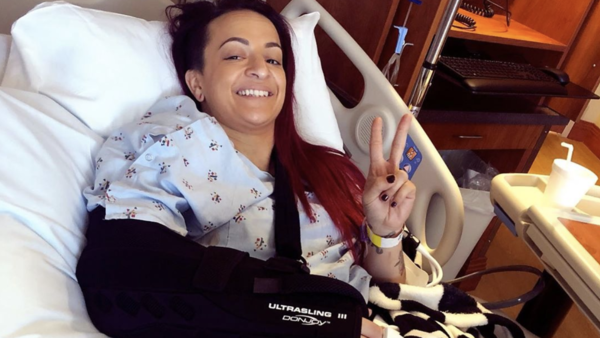 '
'
The bad news is that she'll have to undergo the same procedure on her left shoulder at a later date, and now looks set to miss several months of action.
Riott last wrestled on a 17 May house show. There's no word on what caused the injury, and WWE.com's article offers only a vague prognosis, but the increasingly thin Raw women's division could really use her at the moment, despite recent booking patterns.