Stephanie McMahon Top 15 Photos Real Life and video online
8 Photos Of Stephanie McMahon Before She Became A Mom (And 8 After Motherhood)
We'll take a look at how different Stephanie's life has become since the birth of her three children.
Looking back at the life of Stephanie McMahon, it's as if she's lived to separate lives; one before the birth of her children and the other, during motherhood. In this article, we take a look at both ends showing off the differences between the pre and post motherhood life of Stephanie McMahon. In the pre portion of the article, we recount lots of photos whether it be real-life candids or past storylines (some of which Stephanie would have never agreed to if she had children at the time)

We'll also take a look at how different Stephanie's life has become since the birth of her three children. Somehow, Stephanie is taking on more today both on and off screen compared to her days without kids. We look at some of her greatest photos during motherhood both coming from her personal life and professional life.

Enjoy folks and like always, be sure to share the article with a friend. Without further ado, here are eight photos of Stephanie McMahon before she became a mom and eight after motherhood. We begin with a rare photo of Stephanie's on-screen debut playing the role of an extra with none other than Stone Cold Steve Austin.

Stephanie McMahon Top 15 Photos Real Life and video online
16

Before – First On-Screen Appearance
Almost two decades ago, long before motherhood, Stephanie had other concerns and one of them was appearing on WWE television as an extra for the first time ever. She was approached by none other than Stone Cold Steve Austin in story as he searched for The Undertaker.
Fast forward a couple of months later and Stephanie was working alongside both these legends involving a storyline with her dad as well.
Stephanie opened up about the experience just prior to Raw 25, here's what she had to say pertaining to that first appearance;
"Well as often happens at Monday Night Raw and at WWE television it's a lot of run-and-gun because it is live. What I mean by run-and-gun, it's a production term, where you have your crew basically they are on the fly, they are on the go, they are on the move. And we needed an extra, for Stone Cold to ask where The Undertaker was.
"So really I just happened to be at the right place at the right time and I got thrown into that scene. It wasn't a strategic decision for Stephanie McMahon, Vince's daughter, to make her debut on television. I was really just an extra in the moment. And it was incredible. I mean to be a part of the show, with Austin? That was certainly a memorable moment for me."
15

After – Fitness Beast
You can argue Stephanie McMahon looks better in her 40s and that's after having three children. A big reason for that is Stephanie's newfound love for the fitness lifestyle. Of course, her husband Triple H has a lot to do with that. Before entering the wrestling business Triple H's other love was the world of bodybuilding, you can see his appreciation for the field till this day whether it's acknowledging the great Arnold Schwarzenegger or posting a fitness video to his social media account.
Stephanie's social media account is also filled with fitness related content. It's crazy that the two find the time to train. They coined the phrase "Midnight Workouts"; nowadays, they're getting their sweat on in the comfort of their own home. The couple has a home gym with top of the line equipment and as if that wasn't enough, they even have a personal trainer that drives over an hour in the wee hours of the night to help and guide them through their workouts.
All the hard work clearly paid off and that's especially true for Stephanie who looked phenomenal during her recent WrestleMania match. It was the best she's ever looked, clearly, Vince's daughter is ageing like a fine wine.
14

Before – With Hunter At WWF New York Launch
This rare photo was taken in 2000, meaning the relationship between Stephanie and Triple H was yet to come out in public. It became a massive story of course and it led to the departure of Chyna, who was the odd person out in the situation.
As for the WWF New York launch, Vince had high expectations but unfortunately in 2003 the company closed the venue. Stephanie spoke about making such mistakes and here's what she had to say:
"You make a lot of mistakes along the way but that's OK. It's OK to make mistakes, as long as you learn from them."
"(My father and CEO) Vince has an expression: 'It's OK to make mistakes, but never make the same mistake twice.'"
So what Stephanie's trying to tell us is you won't see another WWE New York type of establishment, instead the company is fully committed on expanding worldwide.
We saw that with Saudi Arabia and India. Although the company is all about global expansion they'll clearly always have a soft spot for New York. It was the home of the first WrestleMania and it'll always have a place in the hearts of the McMahon family.
13

After – With Her 3 Children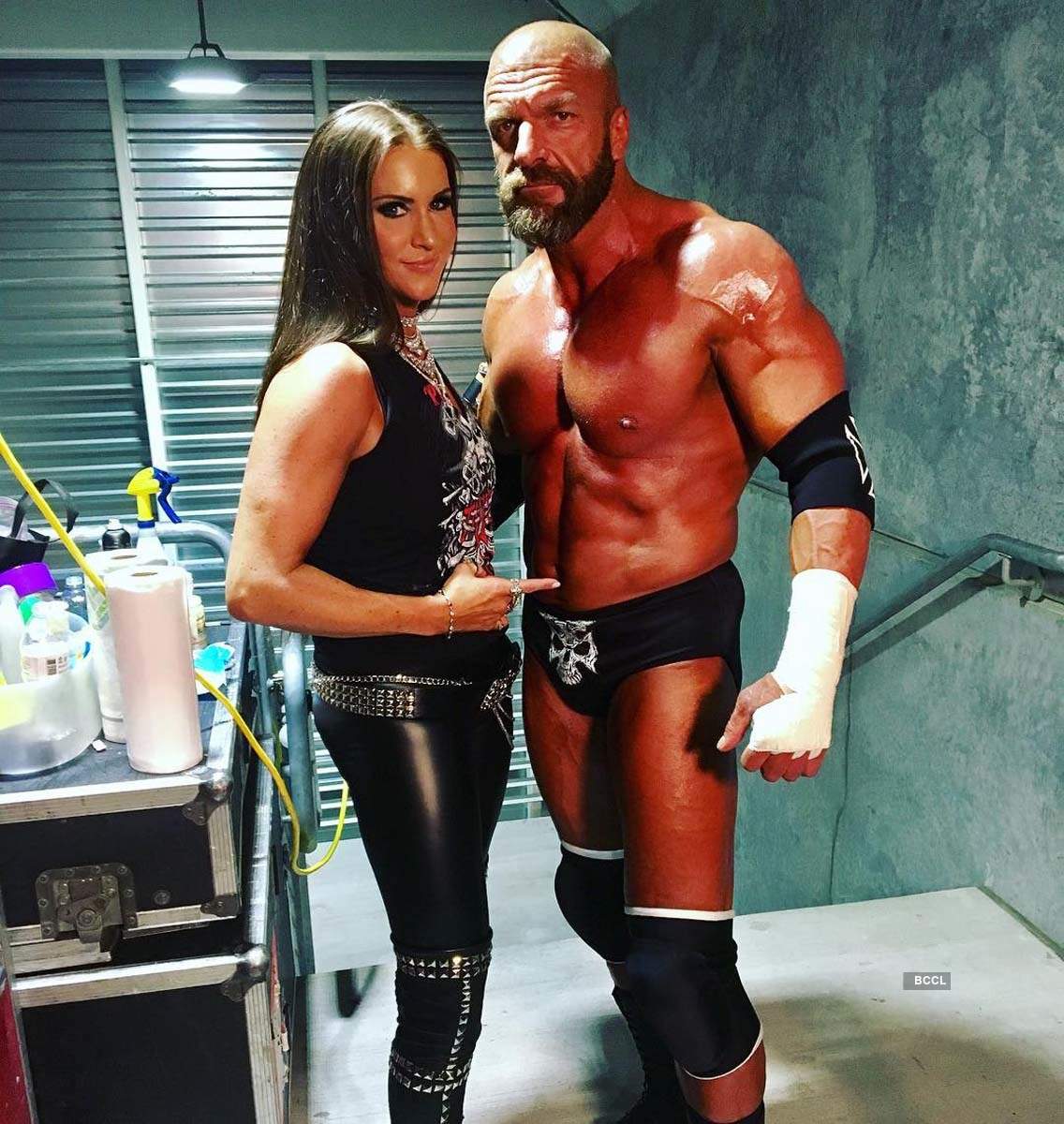 The biggest change in Stephanie's personal life is the fact that she has three daughters to take care of constantly. Following her run as the SmackDown GM she was written off the program due to the fact that she wanted to start a family. However, even when she was almost due, Stephanie remained on WWE programming selling her pregnancy for a storyline. Seriously, does that shock anyone?
Aurora Rose was the first of the three, she was born in July of 2006. It seems as though the couple had a thing for summer births as Murphy Claire was also born in July, though two years later in 2008. Finally, Vaughn Evelyn was the last of the bunch born in August of 2010.
Steph's spending lots of time at home as of late taking care of the children.
A surprise to some, the kids do watch wrestling and in fact the oldest of the bunch plans on being a future Women's Champion:
"They (Stephanie's children) do watch it, my oldest and youngest in particular. My oldest would love to be the women's champion and my youngest wants to marry John Cena – so she needs to hurry up because he and Nikki Bella are now engaged. It is conflict resolution and the only difference is ours are settled in the ring in some great live action."
12

Before – The XFL Days
Stephanie has seen the good, bad and ugly during her time with the WWE. The straight up ugly took place in 2001 when McMahon decided to launch his own football league, the XFL. As you see in the photo above before Stephanie entered motherhood, she served as an interviewer. Stephanie talked about her time in the position claiming she might have been the worst interviewer ever, but had a blast in the gig. Vince likely didn't feel the same way as the company lost millions and they closed the league in the same year, ouch.
We discussed earlier that the McMahon family doesn't make the same mistake twice as they live and they learn.
However, it shocked everyone when Vince decided to relaunch the XFL for 2020. Both Stephanie and Triple H were asked about the revival of the league and here's what they had to say;
"I think if anything he has proven over time that you learn from failure, much more than you learn from success," he said. "He's gone at this once and it didn't work out. I think he learned a ton from that and he's been chomping at the bit from the time to be right to do it again. I feel like he believes the time is right, now. I think he's learned more from that success and certainly I wouldn't bet against him."
11

After – The Authority
During the births of her three children, Stephanie's WWE appearances were few and far between. She took part in shows sporadically. However, as of 2013, we finally started seeing Vince's daughter a little more. You can mark the summer of 2013 as her official return as a mainstay on WWE programming.
Her role was alongside Triple H forming the group known to WWE fans as The Authority.
It was at SummerSlam when the faction officially started. The group aided Randy Orton in his victory against Daniel Bryan. They turned into massive heels and it led to one of the best programs in recent memory featuring Bryan against The Authority. The feud culminated at WrestleMania with Bryan having two matches on the night, one against Triple H and the other in the main event against both Batista and Randy Orton. WrestleMania XXX finished with the beautiful scene of confetti falling on Bryan as he held both World Championships.
Ultimately, Stephanie would even return to in-ring action. She took on Brie Bella months later in one of the most compelling storylines in all of the WWE, the two even closed off a show on route to their SummerSlam match. Stephanie continues to be a mainstay till this day; however she's recently taken some time off.
10

Before – The Girl With The Shy Smile
Before she made her mark on television, Stephanie was known backstage as "the girl with the shy smile", a label coined by the great Mick Foley. Stephanie still maintains that great smile to this day.
You would think growing up was easy for Stephanie, especially given all of the opportunities she had in front of her. However, that wasn't the case and Stpehanie admitted that her childhood was quite difficult outside of anything wrestling related;
"I was bullied for being Vince McMahon's daughter, you know. People either loved me just because I was Vince McMahon's daughter, or they hated me just because I was Vince McMahon's daughter. It used to bother me a lot that people would treat me a certain way without knowing who I was, you know. I always felt like, if you got to know me and you don't like me, that's fine, but at least get to know me, you know? I talked to my dad a lot about that when I was a kid, and he said, 'Steph, look. It's a fact of life. Not everybody's going to like you, but as long as you can look at yourself in the mirror, and look yourself in the eyes and know that you're a good person, that's all that matters.'… that lesson my dad taught me was something I'll never forget and that I try to pass to my kids… they're going to have to deal with something I never had to, which is social media."
9

After – Women's Wrestling Pioneer
Looking at Stephanie's post run following the birth of her three children, one of her biggest roles has come in the form of women's empowerment movements, particularly with the WWE. Thanks to Stephanie and in large part Triple H, the females are now viewed as equals in comparison to the men. The way the division has changed is truly shocking, out are the silly gimmick matches and in are the MITB ladder matches and Women's Royal Rumble.
Perhaps Stephanie's biggest moment was her announcement of the inaugural female Royal Rumble match.
She recalls the announcement as being her favorite Raw moment ever:
"My most favorite moment is when I had the opportunity to announce the first ever women's Royal Rumble match. And I think one of the reasons why is because I had the chance to acknowledge the women in the ring, the women on Monday Night Raw, the women on SmackDown LIVE, the women on NXT and any woman to ever step foot inside a wrestling ring, regardless of what promotion they worked for, because they are all a part of this moment in time, they are all a part of making it happen. I told them react naturally, don't feel like you have to be in character, it's okay for you to react however you want to react, to whatever I'm going to say. We all broke character that night."
8

Before – SmackDown GM Run
One thing you won't find Stephanie discussing is her run as the SmackDown GM. Conforming with the times of the Ruthless Aggression Era, we saw an edgy version of Stephanie McMahon during this era. Thankfully, she gave us those moments before the birth of her children cause that could have been really awkward to try and explain.
Stephanie was written off the show a week after WrestleMania X8, ironically that was all because of her husband Triple H and his feud with Chris Jericho. McMahon would return in the summer of 2002 taking on the role as the SmackDown GM. She was brilliant in the position and it was a rare time in her career that saw her receive cheers instead of boos. She was also serving a purpose backstage working as a part of the creative team alongside Paul Heyman. With Paul in charge and Stephanie running the program on-screen, this time period is considered the golden era for SmackDown. It was clearly outperforming Raw and a lot of that had to do with Stephanie and her involvement.
All good things come to an end and Stephanie was written off the programming after she lost a match against her own father. She left due to the fact that was marrying Triple H shortly after.
7

After – Brand Ambassador
Along with returning to television, the biggest change in Stephanie's life following the birth of her children was taking on the role as the Chief Branding Officer of the company. Her role with the title is to promote the brand whether it be to advertisers or future investors. In short, it's her job to expand the company's horizons as a whole. Clearly, she's done a fine job in the position as the company has more doors opened today than ever before. A lot of that has to do with their programming that is now suitable for a younger audience. Yes, the fans don't like the tame content but at the end of the day the McMahon family continue to grow even richer because of the changes. So yeah, don't expect edgy television to return any time soon with such monetary gains being made. Heck, the WWE stock even hit a record high just days ago. That doesn't happen with edgy programming folks.
Stephanie continues on in the role and she's certainly getting compensated quite well. For 2016 to 2018, Stephanie's salary for her on-screen role and ambassador position equals to a payout of $2.2 million per year. Putting things into perspective, Shane gets paid $1 million less.
6

Before – Women's Champion Run
Not so surprising, you rarely hear the WWE acknowledge Stephanie's run as the Women's Champion nor do you hear Stephanie talk about the run with the championship. Things were quite wacky at the time and in-ring ability clearly wasn't at the forefront when it came to who held the championship. Stephanie McMahon won the title from Jacqueline during an episode of SmackDown. Shockingly, the title run lasted a couple of months with Stephanie finally dropping the title in late August of 2000 to Lita during an episode of Raw.
Again, Stephanie hasn't promoted the title win, unlike Shane who took to the ring pretty often, Stephanie has acknowledged that her talents are better suited in other areas. In terms of revolutionizing the women's division, Stephanie believes that took place all because of the fans, here's what she had to say;
"While there was a number of us fighting to have our women represented differently. It was determined that's not what our audience wanted, until one key pivotal moment," said McMahon."There was a match that took place that lasted all of thirty seconds, which was not uncommon with our women. Our fan base, both male and female, started a hashtag called 'Give Divas A Chance' and it trended worldwide for three days,"
5

After – Back In The Ring
One of Stephanie's greatest accomplishments following the births of her three children has to be her recent WrestleMania 34 performance. On April 8th, McMahon along with Ronda Rousey shocked the world putting on the best match of the entire card. Despite Ronda and Stephanie being so green to in-ring action, they were trusted with plenty of time to flourish. The match was almost 21 minutes making it the longest bout of the night and it was even lengthier than the championship matches. Fans grew irate at the possibility of this match closing out the show but looking back, it wouldn't have been the worst idea.
The match was by far the best on the card.
Although Ronda's performance was truly shocking, even Stephanie had a lot of us scratching our heads. She was near perfect in the match. Steph admits a big reason for that was her intense training on route to the high profile bout;
"My last match was four years ago and prior to that was 11 years ago," McMahon said, "We're talking basically 11 years since I was a regular doing anything in the ring, so I've had to recondition my body big time. I'm training a minimum of two times a day, doing intense cardio, boxing, strength and conditioning."
4

Before – Pregnant Stephanie
This is a rare shot of Stephanie before the "storm" that would come in having three daughters. It's a rare photo of a young Stephanie McMahon who's very pregnant, not to mention an angry Triple H who looks none too pleased with that fact that he's posing for a picture at such a moment. What can we say, Hunter was angrier back then.
A big change in the women's division has a lot to do with the growth of women in general, especially the younger demographic:
"I hope that my daughters see that you can be a strong, confident woman who's not afraid to go out and have new experiences … I'm showing my daughters that a woman can do anything,"
Stephanie also discussed the fact that one of her daughter's already started to practice her entrance for the future, though you can argue that she needs to change her theme song:
"I just had a 'match' with my six-year-old (Vaughn). She made me announce her entrance, entering to Katy Perry's new song, Rise. She completely understands it all. I was doing the three-count and wanted the match to be over and she pulled me up so she didn't get the count till three! I said, 'honey, you got to pin me'. She said, 'I don't want the match to be over'. So yeah, she gets it."
3

After – WWE's Power Couple
The biggest difference following the birth of McMahon's children has been her rise in the company alongside husband Triple H. The two have become the most powerful duo just behind the boss himself Vince McMahon. Triple H in particular continues to shape the future of the WWE down in NXT. The brand started off a developmental promotion but has no grown into something so much bigger. You say that NXT is a brand on its own providing the viewers with a tremendous alternative. Looking at Hunter's role with the developmental brand, it's clear that the future is in good hands.
Stephanie discussed her relationship with Triple H, as you can imagine time together is quite limited given their numerous responsibilities both in and outside of the ring;
"Truthfully, we really don't get to see each other very much. Our jobs are so different and we do perform together on television, but that's about the most we see each other, with the exception of being at home which, again, is pretty much just working out – our midnight workouts – so that's our bonding time. But I wouldn't mind being around him 24/7, I have to say. I mean, my husband is pretty amazing."
2

Before – Marrying Hunter
Before the birth of her children, Stephanie's biggest day was her wedding back in October of 2003. She was written off television losing a match to her own father, just weeks later he was giving her away during a wedding that littered with WWE Superstars. Just a couple of years later, the two started a family and the power couple continues on strong.
Of course, things weren't always the easiest especially early on. The talent backstage was none too pleased with the relationship and it even led to Vince rejecting the two as a couple;
"It was not always just all roses. We were given permission and then it was taken away," she said. "In terms of the reasons why, I don't know if he was getting pressure. It was a really big thing in our business for the top star to be dating the boss' daughter and all of the implications it could have."
Nonetheless, the two just couldn't help themselves and they became an item regardless. Triple H recalls a conversation with The Undertaker as a big time move in continuing his relationship with Stephanie. It just goes to show the impact Undertaker had on the lives of many during his full-time run with the company.
1

After – Aging Like A Fine Wine
It's truly hard to believe that Stephanie's currently 41. In truth, you can argue that she looks her absolute best today. A lot of that has to do with her work ethic and rituals out of the ring.
A couple of these rituals consist of healthy eating and training on the regular.
Stephanie credits a checklist to help her get proper balance throughout the day:
"What are your goals for the day? What do you need to accomplish that day or that week?" McMahon said. "Then you can sort of develop your checklist and get things done accordingly. Checklists are super helpful, particularly in just checking off those accomplishments. I'm the type of person, I need to write everything down, because otherwise I'll forget something, and I'll know I forgot it."
In conversation with trainer Joe DeFranco, Stephanie also credits training as a form of meditation as well:
"Training's my church," McMahon said. "That's my meditation; that's my outlet; that's my release. I love training. And talk again about challenging yourself and accomplishing goals, in every workout there are goals along the way. I love the mental challenge and the physical challenge. I love it; I think it's so much fun, on top of being a massive stress release."
Stephanie McMahon Top 15 Photos Real Life and video online