Torrie Wilson Hottest WWE Top 20 photos and video online bio
A survivor from WCW, Torrie Wilson stepped her first foot into the squared circle of World Wrestling Entertainment during the infamous "Invasion" storyline in 2001. This was after Vince McMahon purcha
A survivor from WCW, Torrie Wilson stepped her first foot into the squared circle of World Wrestling Entertainment during the infamous "Invasion" storyline in 2001. This was after Vince McMahon purchased WCW, and put a stop to the Monday Night War once and for all. Of all the fresh acquisitions from WCW ranging from Diamond Dallas Page, Buff Bagwell and Mike Awesome, Torrie Wilson surprisingly outlasted them all to become one of the company's most popular Superstars during her seven-year stay with WWE. Although not given many opportunities at legitimately wrestling for the Women's Championship in her career, Torrie had an aura about her like no other woman ever had. You could even argue that at one point or another, Torrie was even more over than Trish.WWE's version of the all American girl, her beauty scored her multiple magazine covers. She was the go-to for Bikini Contests, Bra and Panties matches, and anything requiring very little clothes; things like wrestling in eggnog, chocolate, or any substance WWE decided to throw her in. Not at all surprising then when Sable returned in 2003, the two of them would battle head to head for supremacy on SmackDown for the better part of a year, resulting in one of the steamiest segments in WWE history at Judgement Day.

Torrie Wilson Hottest WWE Top 20 photos and video online bio
20

An Invader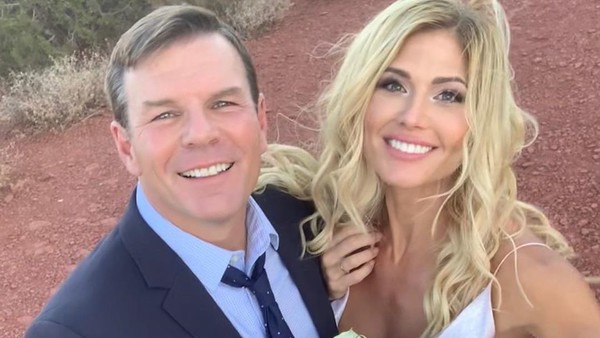 Within the first few months into their debut, Torrie Wilson and Stacy Keibler believed the women of WCW were much better than the women of WWE. To prove it, the two of them set forth a challenge to Trish Stratus and Lita to compete in the first ever Bra And Panties Tag Team Match at the Invasion PPV event. Although the pants Torrie wore at the start of the night sure as hell attracted eyes in her direction, they looked even better on the mat – which means unfortunately for the WCW Divas, they lost the match.
19

First Ever Lingerie Match
As WWE and WCW continued their not so heated rivalry throughout 2001, Torrie Wilson would eventually switch sides and join the WWE after beginning an on-screen relationship with Cruiserweight Champion Tajiri. Feeling betrayed, the "Duchess of Dudleyville" Stacy Keibler demanded those damn Dudley Boyz crash Torrie Wilson through a table.
The two bitter former WCW gals would eventually meet one on one at No Mercy in another first with the company – a Lingerie Match. Torrie would pick up the victory in a hot little number that's nearly impossible to forget. The match was so hot, that it was actually selected in WWE's Top 10 Matches of 2001. Not bad, Torrie. Not bad.
18

Bikini Match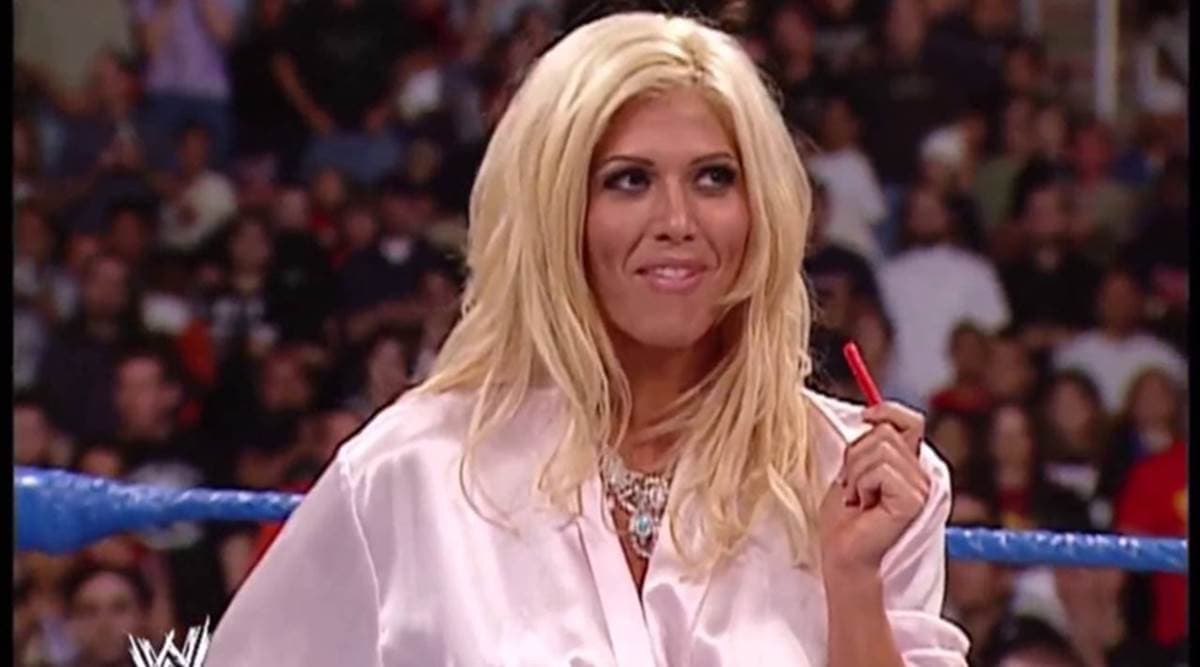 Torrie Wilson and Stacy Keibler would meet once again in another first for the company; this time it was a Bikini Match on RAW. The rules are simple, you win by pin fall or submission… you just have to be wearing a bikini too! Before the inaugural brand draft would happen after WrestleMania X8, WWE would throw these two girls in whatever match they wanted to. The WWE Universe was always up for watching these two gals wrestle.
17

Hottest Breakup Ever
History likes to repeat itself in the world of sports entertainment.
Similar to Marc Mero and Sable, and even most recently with Rusev and Lana, Tajiri eventually grew jealous of Torrie and forced her to wear geisha outfits in order to hide that beautiful body of hers from the WWE Universe. The emotional abuse would prove too much for Torrie, and in a match Tajiri was having with Hurricane Helms on Smackdown,Torrie shed her humility by stepping onto the announcer's table and removing her geisha outfit, distracting Tajiri into losing via count out. You go, girl!
16

Golden Thong Award Winner
After having captured the Golden Thong Award at the Divas Undressed Special on Spike TV in 2002, Stacy Keibler would challenge Torrie Wilson to a Bra and Panties Match on a July 4th edition of SmackDown. God bless, America! In her pink little shorts and black top, Torrie stripped Stacy down with no problem and won the match without having even one article of clothing torn off. But since Torrie was such a sweetheart, she decided to strip down after the match anyway to please the WWE Universe the best way she knew how.
15

Lingerie Contest
After having defeated Dawn Marie in a Bikini Contest the week prior, Torrie was challenged yet again by her soon to be bitter enemy. This time, she was challenged to a Lingerie Contest! Even though Dawn Marie looked mighty damn fine, Torrie was declared the winner yet again after revealing a one piece number which caused pretty much every single man in the arena to erupt in cheers. And that sucker…
14

We Give Thanks To Torrie
In a WWE Thanksgiving tradition, it wouldn't be SmackDown without scantily clad Indians and Pilgrims! Torrie would be the Indian for the night (the correct term should have been Native American), and after having to watch Dawn Marie flaunt her engagement ring Torrie's father Al gave her, Torrie decided to beat the living hell out of Dawn – and she never looked better.
13

The Sable Invitational
After her wacky feud with Dawn Marie resulting in her father Al being killed via too much sex (yes, we're not kidding), things finally started to look up for Torrie Wilson. She was selected to be on the cover of Playboy in 2003, a feat only done by two other Divas prior. One of those Divas was Sable, who made her return and immediately began to feud with Torrie. Playmate vs. Playmate!
Within her first month back in WWE, Sable would hold a "Sable Invitational", inviting any Diva on Smackdown to participate in a Bikini Contest. Torrie Wilson, along with Dawn Marie and Nidia would accept the challenge. Torrie would reveal a sparkling red bikini in a segment so steamy, we're surprised it made network television. Even though Torrie won the audience over, Sable declared Nidia and Dawn Marie the winners anyway. Was somebody jealous?
12

Showing Sable Who's Boss
After picking up yet another victory over Dawn Marie on SmackDown (I'm not quite sure if poor Dawn ever picked up a win against Torrie), Sable decided it was time to challenge Torrie Wilson once and for all. However, it wouldn't be a match she would challenge Torrie in, but a Bikini Contest. How predictable, Sable!  "THE" Playboy centerfold against "A" Playboy centerfold, Sable said. Ouch. Torrie accepted the challenge by unzipping her hot pink blouse to reveal two very big reasons why she wouldn't be intimidated.
11

The Day Of Judgement
At the Judgement Day PPV event in 2003, the two former Playboy models would finally go toe to toe and reveal their bikinis to the WWE Universe. Both Torrie and Sable looked spectacular, and it actually appeared as if Sable had the contest won – until Torrie stated that she "wasn't quite finished yet." Torrie then proceeded to remove her bikini to reveal an even skimpier bikini underneath, the audience exploding with applause as Tazz declared Torrie the winner to the contest. And just as you thought it couldn't get any hotter, Torrie planted Sable with a kiss to make sure there would be no hard feelings. If you're a hot blooded male and haven't seen this yet, YouTube is your friend.
10

Becoming Ms. Ass
Who would have thought that an outfit covering Torrie Wilson from head to toe could make a list of Top 20 Hottest Outfits worn by the two-time Playboy cover girl? Well, this eye catching blue ensemble was so skin tight it still managed to leave very little to the imagination. And it would be this night that Torrie Wilson and Billy Gunn would decide to pair up for the remainder of the summer. Mr. and Ms. Ass it was!
9

Tribute To The Troops
At the first Tribute to the Troops hosted by SmackDown in December of 2003, the Superstars and Divas traveled to Iraq to show their support for the men and women risking their lives for the sake of their country each and every day. It was a heartwarming event that helped show the world that despite its gratuitous violence and mature subject matter, WWE truly did have heart.
The Divas of SmackDown competed in the first ever Santa's Little Helper Contest – a contest just as sizzling as the bright Baghdad sun. The very little clothes the Divas wore (especially Torrie!) made for great television, but you have to feel for the male soldiers having to watch that after having been away from their girlfriends and wives for so long.
8

All American Girl
Torrie Wilson adorned the poster of the Great American Bash PPV event (and would do so the next year as well), and former rival Sable became a current rival once again after jealousy ensued. Sable was sick and tired of Torrie getting all the attention on Smackdown, so a challenge was made. This time, it wouldn't be a Bikini Contest but a real competitive fight! Torrie, being the sweet all-American-girl, came out wearing stars and stripes looking absolutely adorable. But unfortunately for Torrie, Sable would pick up the victory.
7

Looks Great In A Dress
Seeing as how Torrie Wilson was the Queen of SmackDown, it was only fitting she help host the first and only Diva Rookie of the Year contest in 2005 at the No Way Out PPV. In this lovely little green dress, I'm sure fans were a bit sad that Torrie wouldn't compete in the festivities because even with the newest fresh meat on the roster, if you ask my opinion Torrie was still the favorite.
6

An Example Of Her Ring Attire
After being the sweet and innocent "goodie goodie" for most of her career, Torrie Wilson would be drafted to Raw in late 2005, and would decide to turn heel in the process. She teamed with Candice Michelle and Victoria to form the stable "Vince's Devils" – an obvious play on the movie Charlie's Angels. In this stunning gold shiny outfit, Torrie teamed with Victoria to take on Diva Search Winner Ashley and the returning Trish Stratus. She did not win, but on a plus side look how adorable her dog is.
5

Draped In Pearls
Although it is not the most memorable of nights for Torrie Wilson seeing as how her and Candice Michelle only accompanied Victoria to the ring in a match on Monday Night Raw, it is however one of the most memorable outfits of Torrie's because look at it! Draped in pearls in an outfit that could drop nearly every man's jaw to the floor, as you can see from the picture above, a photo shoot of the pair was required.
4

Wet N' Wild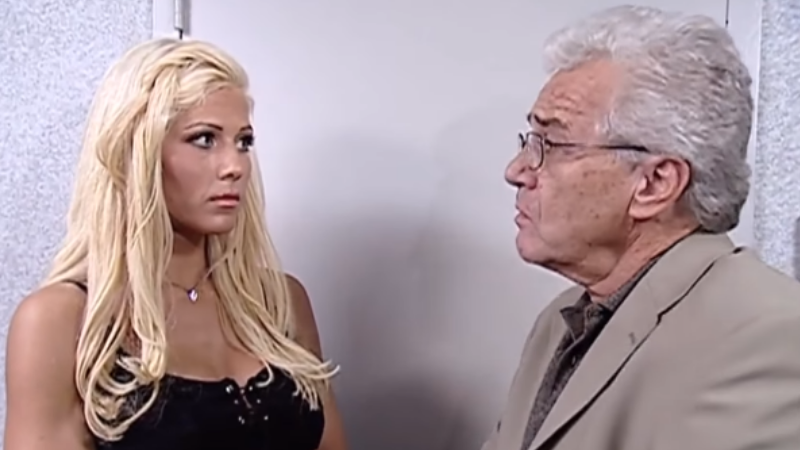 Seeing how the WWE Unvierse never cared to boo Torrie Wilson, the Boise native didn't last long as a heel. And on the road to Wrestlemania 22, she would become everybody's favorite little goodie goodie once again after Candice Michelle turned on her because she believed that Torrie Wilson was yesterday's news. Please! They would feud throughout most of 2006 in match ups that would require little to no clothes, and in the first ever Wet N' Wild Match, it also required both Divas get soaked and wet! Oh my!
3

School Girl
Candice and Torrie continued their fun little rivalry when in September, both Divas were scheduled to compete in naughty little school girl outfits in a Back to School Paddle on a Pole Match. How original. If you wish, you can catch the match (along with most of the moments on this list) on Youtube after you're done reading the article. Like many nights that she competed in the ring, a backstage photoshoot was ordered because how could you not snatch some photos of Torrie Wilson dressed like a schoolgirl?
2

A Fighter
In the last year of Torrie Wilson's career, a fire was ignited in Torrie like never before as she was beginning to put on some pretty stellar matches against Victoria after being redrafted to the Smackdown brand. Never having won the Women's Championship, Torrie had something to prove; she wasn't going to settle for being just a pretty face anymore.
Covering up her body a bit more so than before, Torrie still looked super hot, and in this shot from the 2007 Survivor Series event, Torrie sure could nail a clothesline like no other Diva. If it wasn't for a nagging back injury, Torrie may not have left in the spring of 2008 and may have even won a championship in her career.
1

Bra And Panties
To end this list the right way, we have to mention that Torrie Wilson competed in way too many Bra and Panties matches to remember, probably more so than any other WWE Diva in the history of WWE! So here are three images of Torrie in her underwear! From left to right, Torrie at the 2006 New Years Revolution, Torrie after a Fatal Four Way Bra And Panties Match in 2006 on RAW, and Torrie and Sable (pals for a hot minute) at WrestleMania XX. There will never be another Torrie Wilson.
Torrie Wilson Hottest WWE Top 20 photos and video online bio