Stephanie McMahon Hottest Real life TOP photos and video BIO
15 Little Known Facts About Triple H And Stephanie McMahon's Relationship
Here Are 15 Little Known Facts About Stephanie & Triple H's Relationship.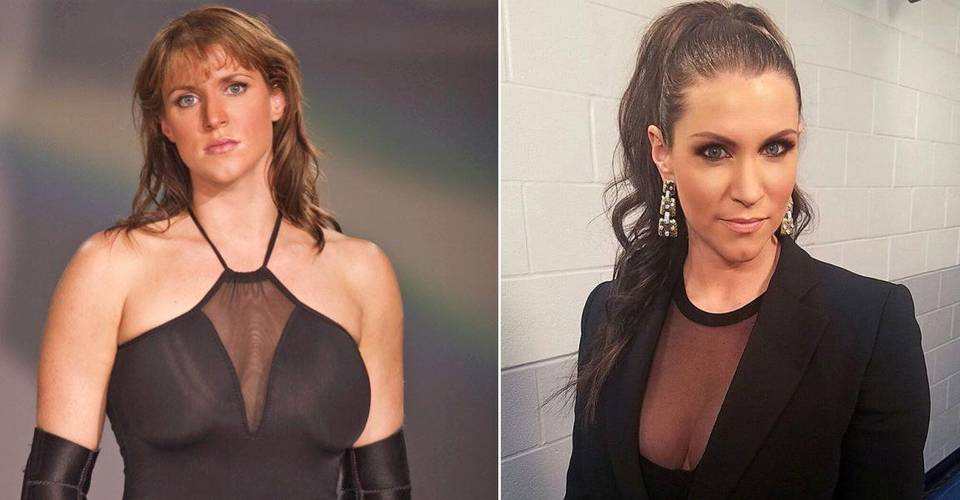 At the moment, they're WWE's power couple and likely to take over once Vince calls it a career. However, the duo wasn't always celebrated by fans and peers. In fact, it was much the opposite as the locker room was none too pleased when the news broke of the two dating one another. Vince's initial reaction was to separate the two, however, there was no keeping them apart and they would continue to date despite the locker room and Vince's feelings.They tied the knot in 2003, Stephanie would take a hiatus from WWE during that time period, starting a family. The happy couple has three daughters.

However, on the following list, we'll diagnose facts about the coupe that are lesser-known. Enjoy!

Stephanie McMahon Hottest Real life TOP photos and video BIO
15

Stephanie Was Working Creative & Shadowing Vince When They Met
Stephanie wasn't working on-screen when she met Triple H for the first time. Instead, Stephanie had a position backstage in the late-'90s with creative. At that point, she was shadowing Vince backstage, according to Bruce Prichard.
Eventually, the relationship would blossom once they would be paired together on-screen. As they say in the business, "they worked themselves into a shoot."
14

Triple H Feeling Her Leg On TV Was A Turning Point
Oddly enough on the Howard Stern show, Stephanie admitted that this was a big turning point.
Steph was unsure as to how Hunter felt about her. It all changed during a spot when Triple H was thrown outside – when Stephanie went to help Triple H, she claims that the way he touched her leg wasn't in a friendly manner… confirming that he had feelings for her as well.
13

Stephanie Had A Boyfriend Till 2001
We all know the story between Triple H and Chyna, however, what few fans discuss is the fact that Stephanie also had a boyfriend at the time, until 2001 according to the Bruce Prichard podcast.
She dated a high school friend she had known for quite some time – but of course, it would end in separation.
12

Chyna's Release Wasn't Because Of The Relationship
Most fans assume that Chyna's release took place because of the relationship between Stephanie and Triple H. However, what wasn't stated is that McMahon actually sat down with her and discussed a new contract.
According to Something To Wrestle With, Chyna asked for four times as much as WWE offered, she demanded $2 million which was absurd in that era along with various beneficial clauses. That caused the negations to fall flat.
11

Stephanie's Ex Was The One That Said She Had The Hots For Triple H
Oddly enough, Stephanie hadn't realized that she had a crush on Triple H. On the Howard Stern show, she pointed out that it was an ex-boyfriend that had noticed Stephanie having the hots for the WWE star.
Stephanie thought there was no way Triple H could have felt the same way – even despite the flirting going on at the early stages.
10

Stephanie Overly Defending Triple H Made Locker Room Realize Something Was Going On
Bruce Prichard would admit on his podcast that he realized something was up when Stephanie became overly defensive during a conversation between the two pertaining to Triple H at an XFL game.
Bruce speculated as to why she had his back so aggressively – it would become clear that something was going on.
9

Stephanie Dated A Baseball Player Before Triple H
Just prior to her relationship with Triple H, Stephanie had a few dates backstage and at the McMahon residence. A little known fact, Stephanie would also date a baseball player during the early portion of her WWE run behind the scenes.
Both Stephanie's boyfriends prior to Hunter were said to be very respectful, according to Bruce Prichard.
8

Vince Made It Clear That Stephanie Couldn't Date Any Of The Boys
Vince had no objections to Stephanie dating her high school friend and the baseball player.
However, he made it clear to Stephanie that dating one of the boys was completely forbidden and it had been established with the rest of the locker room as well at that point that she was off-limits.
7

Vince Demanded That They Split
Of course, once it was revealed that the two were dating, McMahon was not pleased at all, especially given the reaction of the locker room.
McMahon demanded that the two split, as it wasn't a good look for either of the two. They would break up but it didn't last…
6

They Quietly Continued To Date Despite Vince's Feelings
Linda McMahon admitted that despite Vince separating the two, there was no keeping them apart.
Despite the first breakup at Vince's request, they kept seeing each other nonetheless behind the scenes. According to Something To Wrestle With, McMahon changed his mind about the relationship at least three times.
5

Undertaker Gave Triple H His Blessing
Undertaker was regarded as the locker room leader back in the late '90s and early 2000s. Triple H asked Taker for his blessing on the relationship.
Undertaker spoke truthfully, claiming that fans and his peers would look at Hunter's career differently because of the relationship. However, if the attraction was a real one, he shouldn't care about that.
4

Stephanie Was Written Off Television Just Prior To The Wedding
One day she's competing in the ring against her own father, the next, Vince's walking her down the aisle. That's exactly what happened as after losing to her dad at No Mercy, Stephanie was written off television.
She got married the same week and we wouldn't see Stephanie on WWE television for two years.
3

Love Letter Exchange
This one is an urban legend. According to the rumor mill, Chyna realized that something was going on between the two after finding a love letter in Triple H's bag from Stephanie.
It is believed that during those stages, Chyna and Triple H were living together but trying to sell their home given that they were splitting up.
2

Tension With Christy Hemme
We can add this one to the urban legends list – we're not sure as to whether or not the story is true. However, it is believed that tension took place in the relationship because of Christy Hemme and her flirtatious ways with Triple H.
Shortly after the speculation, Hemme was sent down and later released by the company without an explanation.
1

Time Together Is Limited
This is a part of the relationship few fans realize. Stephanie would admit that actual time between the two is limited given their tough schedules. Triple H is always on the road whether it be with RAW or NXT.
The same goes for Stephanie who does a lot of traveling as well as the Brand Ambassador.
Stephanie McMahon Hottest Real life TOP photos and video BIO